Introduction
Are you running out of space on your HP laptop running Windows 10? If so, don't worry – you're not alone.
Windows 10 can be a bit of a space hog, especially if you're not using a solid state drive (SSD). But don't despair – there are a number of things you can do to free up space on your HP laptop. In this article, we'll show you how to free up space on your HP laptop running Windows 10.
How to free up space on windows 10
Windows 10 is a great operating system, but it can be a bit space-hungry. If your HP laptop is running low on disk space, here are some tips to free up some room.
You can delete unnecessary files, uninstall unused programs, and move files to an external drive.
You can also use the Windows 10 Disk Cleanup tool to delete temporary files and old updates. If you need more space, you can purchase an external hard drive or a cloud storage service.
Below are few steps using which you can free up space on your Windows System.
Delete unnecessary files
Use Windows Explorer and find unused files and delete them which are no longer required. Many times, we download Software/Games and install them but we forget to delete their setup file (.exe .msi .zip or .rar ) . You can delete these files as they are no longer needed.
Also you can install third Party softwares which analyzes your disk based on file size and type, which will help you to easily identify and delete those. Of which one of the software is WinDirStat.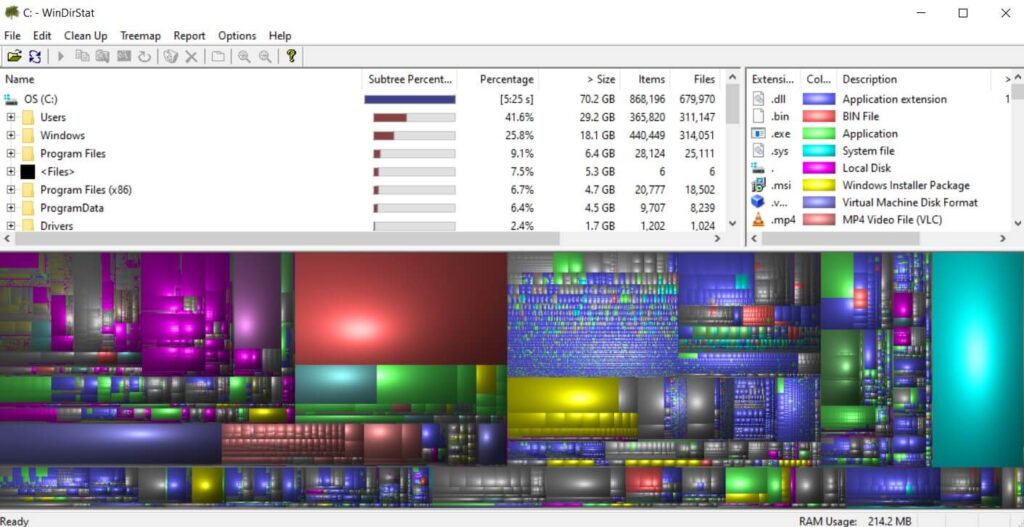 This software will create graphical blocks according to file size and type which makes it very easy to delete them.
Uninstall unused programs : Method 1
Go to the Control Panel and Select Programs and Features options.
This will list all softwares installed on your PC
Identify and double click it to uninstall. This will free up your disk space.

Uninstall unused programs : Method 2
On the Start Menu, type Apps and Features and press Enter
This will list all apps installed on your Windows
Click on the app and it will display options
Select Uninstall option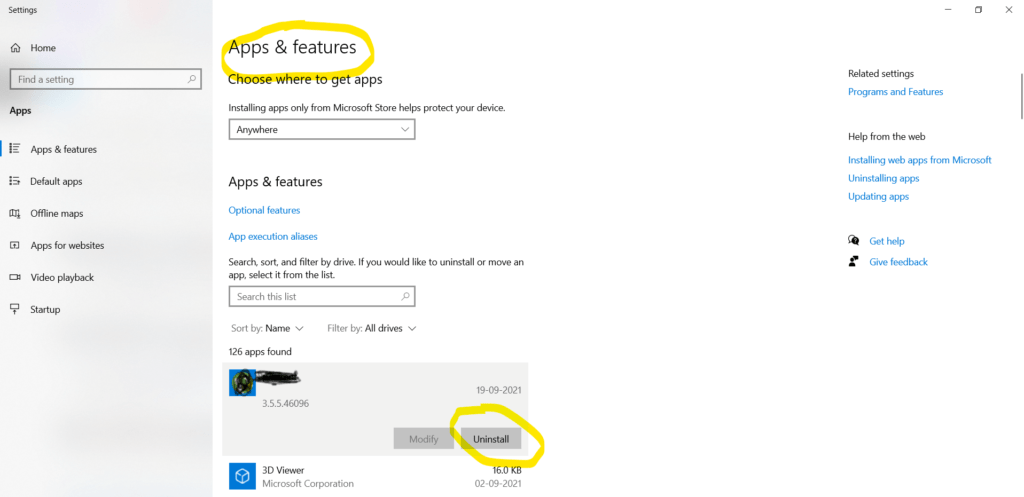 Use a disk cleanup tool
Disk cleanup will erase files from your computer so that it can run faster.
You can use disk cleanup to erase temporary internet files, old versions of Windows, and other unnecessary files.
Disk cleanup is a process that helps you free up disk space on your computer. Windows 10 has a fast and easy-to-use disk cleanup tool that can help you quickly remove unnecessary files from your hard drive.
The disk cleanup tool in Windows 10 can delete temporary files, recycle bin contents, system logs, old Windows updates, and other things that you don't need anymore. It can also clean up the Previous versions of files that are taking up space on your hard drive.
To use the disk cleanup tool in Windows 10, open the Settings app and go to System > Storage.
The Disk Cleanup tool analyzes the files on your computer and identifies the ones that you can safely remove. You can then choose to remove those files, or you can select the files and delete them all at once.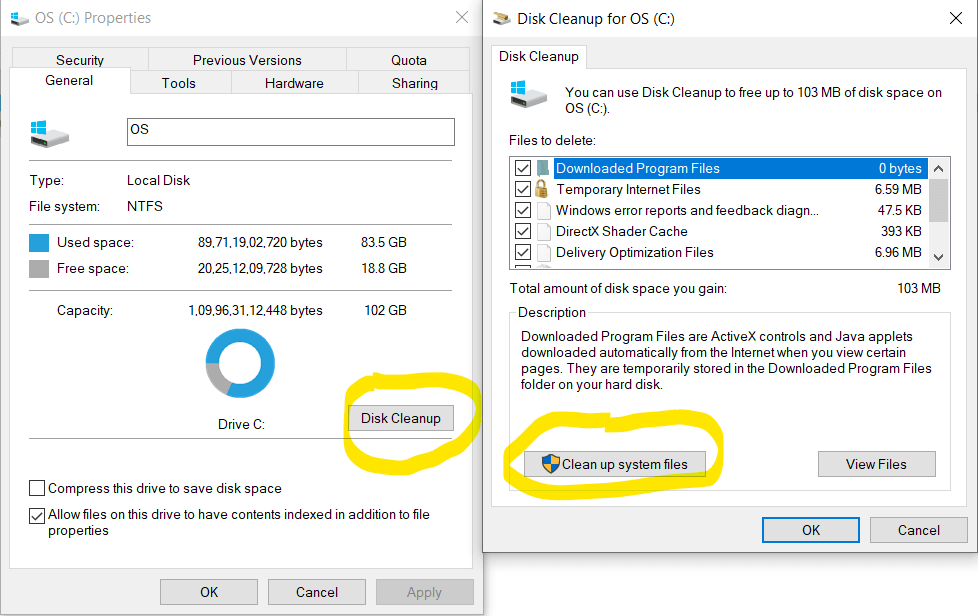 Right Click on your C:\ drive or any other drive which you want to clean.
Click on Properties
In General Tab select Disk Cleanup.
This will clean basic cache files.
If you also want to clean system files, Click on Clean System Files which will delete the files which were downloaded for Updates of your Windows System.
Also, you can clean temporary files using below method:-
Press Windows + R
Type %temp% and press Enter
Select all files and delete
That's it. You have now freed up much space on your System.
Also Hibernation feature takes plenty of space on your Windows. Click here to check detailed article on how to clean it and reclaim it's space.
Move files to Cloud
When you store data on the cloud, it means that you're storing it on the Internet. This can be done in a variety of ways, such as through a cloud storage service, by using a cloud-based application, or by saving your files to a cloud-enabled device.
Many people are choosing to store their data on the cloud because it's convenient and accessible from anywhere, which is the main advantage. Also there is no fear of data getting corrupted or lost or getting infected by Virus.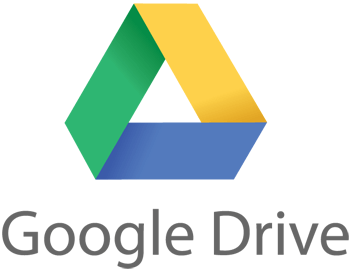 Most people are familiar with the three major cloud storage providers: Google Drive, iCloud, OneDrive and Mega. Each has its own benefits and drawbacks. Mega and Google drive provides a free option, with 15-20GB of storage. iCloud is best for syncing data between Apple devices, while Google Drive is best for working with documents that are shared by multiple people.
Move Files to Different Partition
If you have files that you can move to another drive, you can free up some space on your C drive.
The best way to move files from one drive to another is by using the "cut and paste" command.
To cut a file, select it and press Ctrl+X. To paste it, select a location and press Ctrl+V.
If you're moving a lot of files, it might be easier to use a file management program like Windows Explorer or File Explorer.
Programs like these make it easy to select multiple files and move them to another location.
Another way to move files is by using the "copy and paste" command. 7. To copy a file, select it and press Ctrl+C.
Move files to External Drive
When your computer starts to run low on hard drive space, the first thing you should do is move some of your files to an external hard drive. This will free up space on your internal hard drive and make your computer run faster.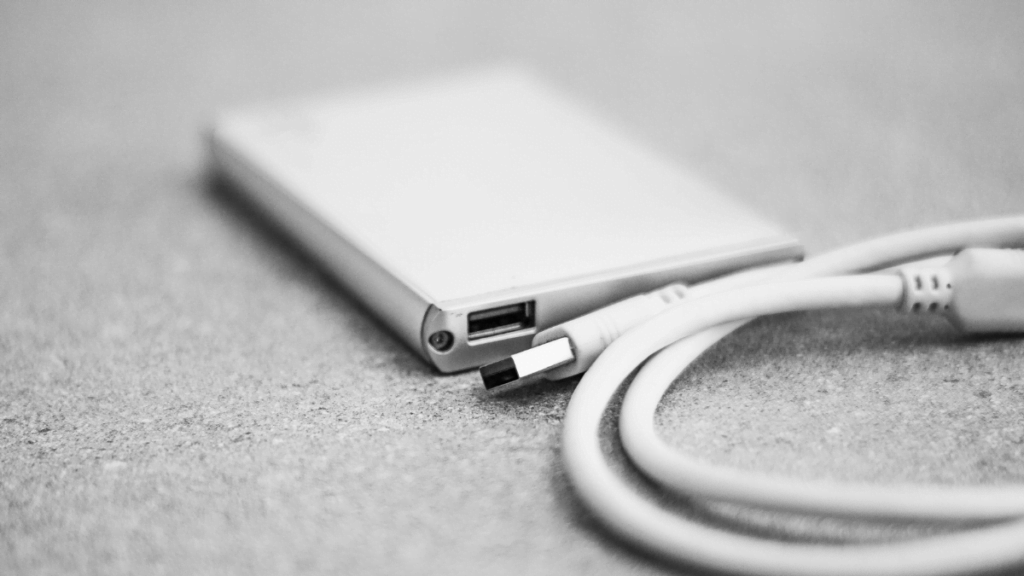 There are a number of ways to move files to an external hard drive. One easy way is to use the File Explorer in Windows. Just select the files you want to move and drag them to the external hard drive's icon.
Another way to move files is to use the copy and paste commands. Select the files you want to copy, right-click on them, and select "copy." Then open the window for the external hard drive, right-click in an empty area, and select "paste."
Expand your Storage
If you don't want to move files to the cloud for any other external storage, then it's time to expand your storage drive.
This would require some technical expertise to purchase and install a Harddrive.
In order to work faster, you should purchase a 1TB SSD Hard Drive which would store enough data for you and will also give you good speed.
Conclusion
In conclusion, disk cleanup is an important process to keep your computer running smoothly. The process helps to free up disk space and improve performance. Windows 10 and Windows 11 makes it easy to clean up your disk with a few clicks of the mouse.
By following these simple steps, you can keep your computer running like new.